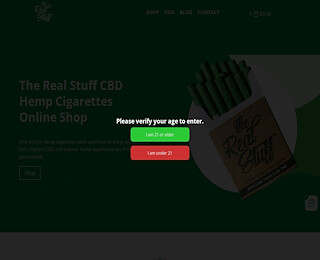 CBD cigarettes from The Real Stuff taste and smell like real cannabis but won't get you high. If you love the flavor and aroma of marijuana but are looking for a 100% legal to buy and smoke hemp cigarette, you'll love our product. Taste and see for yourself the difference quality organic hemp can make in your smoke.
[
Cbd Cigarettes – Realstuffsmokables.com
CBD Cigarettes: Up to 10% CBD, that's 80 milligrams per stick.
Hemp Filter: Yes, even our filter is made of hemp. This means a natural smoke, with a biodegradable filter.
Paper: You guessed it, the paper is made of hemp.
Box: Yes, the box is also made from hemp.
]